Everyone understands that having a plan is essential for making your content marketing efforts as effective as possible. Creating a strategy, however, is only one part of the answer. Another aspect is to align your staff so that everyone is carrying out the strategy successfully. When you're working alone, planning and implementing your marketing strategy is one thing. It's a different story when you're working as a group. If you work in project management, you are aware that aligning your team has its own set of problems. If you want your team to be successful, it is critical that everyone on your team works toward clearly stated goals. You should establish a marketing plan in the same way that you would a product roadmap. A roadmap is a document that outlines your objectives and the activities you will take to accomplish them within a specific time frame.
Key Takeaways:
Create a marketing roadmap to help you match your branding and advertising efforts with your quarterly and yearly company objectives.

Understand the critical indicators and KPIs for your company so that you can get the details of your strategy right.

Visualize your plan to simplify understanding and focus on goals.
Here's how to develop your marketing plan, which breaks down your goals into real, measurable milestones that your team can grasp.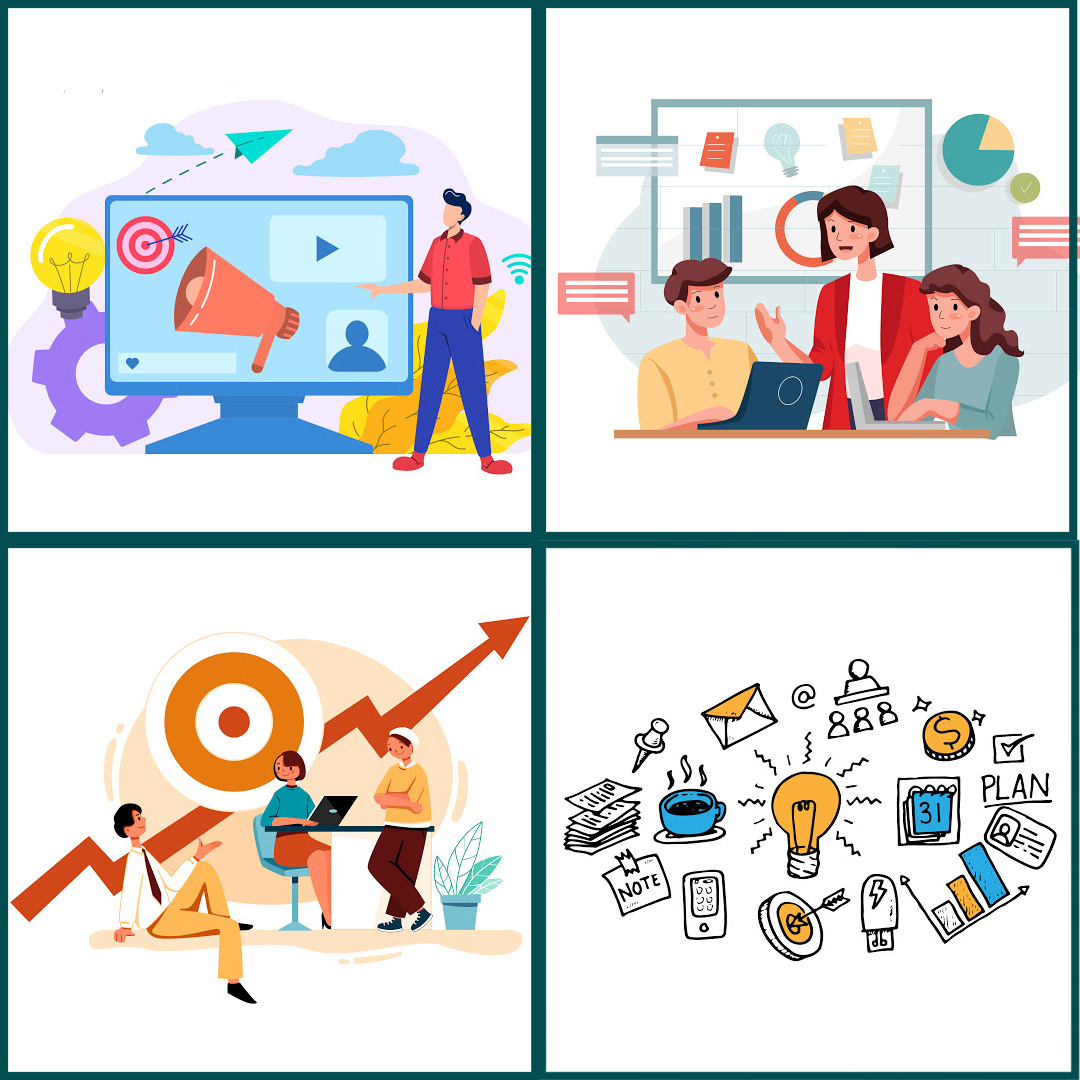 Begin with your high-level objectives.
Everyone is pressed for time and has a lot of stuff to accomplish. But does your staff truly grasp how their job affects your company's high-level objectives? One of the primary aims of your marketing plan is to convey how marketing contributes to your overall goals. When everyone in your organization is working toward the same objective, there is a stronger feeling of purpose – and better, more efficient work is produced. Your marketing strategy, like every other project you design, should be closely aligned with your high-level corporate goals. When creating a roadmap for your content strategy, each phase should be related to your high-level corporate goals.
Divide your marketing objectives into inputs and milestones.
How can you properly match your marketing plan with your high-level goals? You disassemble them. Assume your top company-wide objective for the year is to generate $8 million in sales. Your duty as a content marketer is to figure out how to get enough consumers to meet that target. This is the point at which you must decide where you will spend your money, time, and energy. Which channels are currently providing the most traffic to your site? Assume that organic traffic is your primary source of new customers. Your marketing objective for the year may then be to increase organic traffic to 350,000 monthly visitors through increased content development and promotion. Now that you have a target for organic traffic, you can divide it down even further and establish objectives for other sorts of pages, such as your product pages, blog, and homepage. This is where you'll get into the meat of your roadmap's material. You can now define the success factors for each type of page and establish precise milestones that will influence your content objectives. Assume that one of your content objectives is to boost your organic blog traffic by 20%. The number of fresh blog articles published, the number of outreach initiatives started, and the number of co-marketing activities launched are all potential inputs for growing organic blog traffic. Then, on a weekly, monthly, and quarterly basis, you may define particular milestones. You might, for example, establish a target of increasing the number of outreach efforts launched every month from four to eight. You'll want to emphasize that milestone on your marketing plan. Assume another of your content objectives is to increase your brand's YouTube channel Watch Time by 30%. Inputs might include the number of new videos released, the number of comments, and the average watch time. You may now specify precise goals, such as publishing one new video each week or increasing the average watch time from 2:30 minutes to 5 minutes. You may visualize your goals, inputs, and milestones using a marketing roadmap now that you have them.
Create a visual representation of your road map for easy reference.
Many individuals comprehend things better when they are presented visually. A roadmap provides actionable stages that lead to a goal – a useful tool when asking a team to execute a plan. Marketing roadmaps, in my opinion, should resemble product roadmaps. The method is nearly the same – you work toward a goal (typically a high-level statistic) by breaking down a bigger project (your content marketing plan) into smaller deliverables (blog post ideas, brainstorming sessions, outreach campaigns, social media marketing, content creation, and so on).
As an example of a marketing roadmap, consider the following:
Of course, how you choose to divide and organize your inputs and milestones will be determined by the specifics of your marketing plan. However, some common guidelines to consider while creating your plan are as follows:
Create a new bar for each job or activity.

Sort the bars by team or initiative.

Sort bars by start date or priority

Stack them by channel or type of content.
The simplest method to organize your bars is by month. This will allow you to highlight the following monthly milestones. You may, however, divide your blueprint into segments. This might lend itself to a higher-level roadmap, such as the one you would include in a presentation. I would also suggest using color to identify activities based on their state of importance. Roadmaps, in general, are dynamic documents. Things are unlikely to happen exactly as planned. Color-coding your roadmap can assist you to explain the status of your marketing plan. Another approach would be to depict your roadmap as a timeline. This method might be useful for emphasizing distinct phases of a plan or outlining important events in chronological order.
A timetable, on the other hand, will not be as good in breaking down a plan into smaller inputs and tasks. A roadmap, at a high level, can communicate an overview of the general timeline for executing your marketing strategy. A roadmap can convey deliverables within particular periods on a more precise level. What you're attempting to communicate to your team should influence how you build your marketing roadmap.
Repetition, Repetition, Repetition
If you lead a team, you understand how difficult it can be for people to recall what you tell them. It's reasonable; everyone is busy. However, goal alignment is critical for a team to be successful, productive, and high-performing. This is something you cannot afford for your staff to overlook. Make your roadmap clearly available so that your team can refer to it. You could even print your blueprint and put it up in a conference room (keeping in mind that you may need to update the roadmap periodically). Checking in on the status of your marketing plan with your team on a regular basis may improve communication, increase alignment, and foster responsibility.