It's true. Every business nowadays needs a strong social media marketing techniques presence. Whether you are a tiny local business or a global corporation, social media should be an integral component of your marketing plan. It is hardly a fleeting fad, given that about 2.96 billion individuals globally utilize social media sites. According to a study, this figure will reach 3.50 billion by 2022. So, if you aren't already utilizing this wonderful tool, you are undoubtedly passing up a fantastic marketing chance.
Without a question, social media is an excellent tool for marketing your company. However, as a result of greater competition and the emergence of social media algorithms, the entire social media environment has altered. If you want to keep ahead of the competition, you should seek innovative social media marketing techniques to spice up your social media efforts.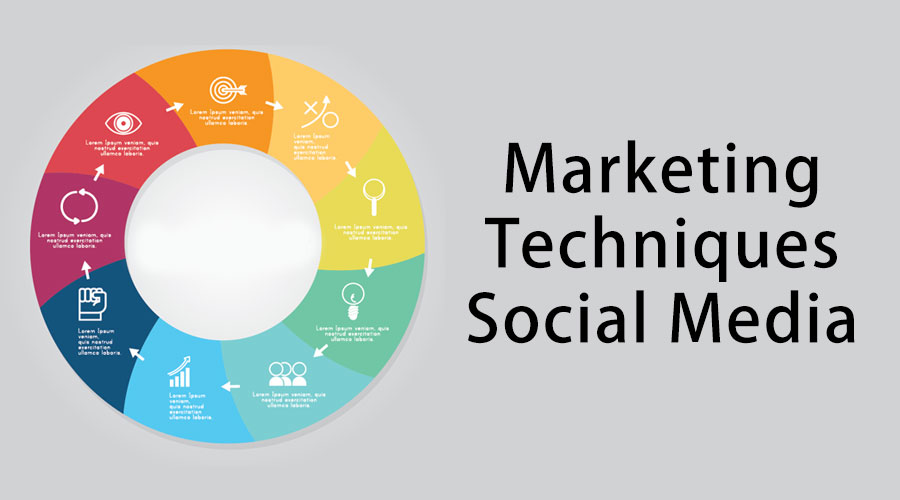 In this piece, we will introduce you to some innovative social media marketing concepts. But first, let's take a brief look at some social media statistics that you should be aware of.
95 percent of individuals (aged 18 to 34) are most likely to follow a brand on social media.

Approximately 63 percent of customers expect firms to provide customer service through social media platforms.

One or more social media platforms are used by 42 percent of the world's population
Suggestions for Enhancing your Social Media Marketing Approach
Make a list of your objectives:
Every firm must have a clear marketing objective. However, how are you expected to do anything if you don't know what you want to achieve?
Make specific goals and objectives that will coincide with your marketing efforts before you begin your social media marketing. It is a good idea to put down your objective. According to one study, writing down your goals increases your chances of achievement.
You may map out your objectives by doing the following:
Use a number (such as reach 15,000 Facebook followers)

Make a deadline.

Make your objectives specific, measurable, achievable, relevant, and time-bound (SMART)
Target audience:
To develop an effective social media strategy, you must first understand your target audience. You should be able to identify their wants, needs, and desires. Here are a few strategies to help you better understand your audience.
Survey your audience to learn more about their problems.

Examine their demography.

Participate in discussions on forums frequented by your target demographic.

React to comments on your social media platforms.

Obtain feedback
You can better assist your target audience if you know who they are.
Create a variety of material for various social media sites:
Most companies find it simple to upload images to Instagram and brief messages on Twitter. However, most social networking sites allow you to show many types of material, such as videos, photographs, infographics, blog entries, and more. It is necessary since generating the same material over and over again may weary your audience, preventing you from attaining your goals. You can identify the optimal content kinds for your target audience by offering diverse material.
Use video material:
Video marketing is one of the most rapidly expanding social media marketing trends. In 2018, 85 percent of all internet users in the United States watched online video material on various devices every month. It demonstrates that video is an effective platform for business promotion.
There is no question that millions of hours of video material are seen on various social media platforms each year. Your videos, however, must be seen by the proper individuals. After all, it's pointless to have a video go viral if the viewers aren't from your target demographic.
Provide education
:
Whatever your objectives are, you must educate your consumers about your products or services. Education is one of the most effective methods to connect with your target audience. When you provide your audience with useful counsel or important information, they will see you as an expert and become devoted consumers. Social media marketing is a fantastic tool for you to easily educate your followers about your company. You may give instructional resources such as blog articles, white papers, webinars, and more as you see fit.
RELATED POST: Grow your Business with Online Marketing: Expert Tips
There will be less marketing and more narrative:
When you use an instructional approach, you educate more than you sell. Storytelling may also be instructive. However, the strength of narrative resides not in teaching people information they didn't know, but in highlighting significant characters and events that elicit emotional responses. These reactions elicit greater action than material that incorporates self-promotion on social media.
Share user-generated material created by your fans and followers:
When you publish user-generated material on your social media pages, it provides your fans a new viewpoint on your business and aids in the development of stronger relationships.
Even a poll indicates that consumers trust material from ordinary people more than content from companies.
You may invite your customers to express their thoughts on your products and services so that you can use that material on your social media platforms.
Consider using influencer marketing:
Influencer marketing is an excellent method for promoting your items on social media networks. Collaboration with a prominent individual not only raises brand awareness but also fosters trust. Perhaps this is why almost two-thirds of merchants in North America utilize some sort of influencer marketing.
Make the most of your loyal clients' excitement:
Customers that are loyal to your brand have the potential to become brand ambassadors. They may increase brand recognition by offering social proof, which allows prospects to establish confidence in your company much more rapidly.
If you believe that a VPN is simply used to disguise your IP address, you are incorrect. VPN is much more than a security solution that guarantees your anonymity on a public network.
Most new firms are unaware that a VPN may assist them in understanding their competitors. There are several VPN applications, ranging from initiating marketing campaigns to monitoring PPC advertisements to assessing search engine rankings.