TikTok Marketing in 2022
The subject of TikTok marketing deserves more attention.
Since its launch in January 2018, TikTok has grown to over 100 million monthly active users in the United States (an increase of 800 percent). If you don't use this platform as a marketing channel, you're losing out on a significant amount of money.
We'll walk you through a step-by-step process for creating a TikTok marketing strategy, and then we'll use examples from the real world to illustrate our ideas.
But first, a quick rundown of TikTok.
To begin, TikTok is a social network for sharing short-form videos. The platform was created and published in China. However, it has been available globally since 2018. While it is most famous as a mobile app, you can still access your account and submit videos using your desktop browser.
Before delving into the specifics of developing a marketing strategy, you should first view several popular TikTok videos to get a sense of the platform. TikTok just issued a list of their top 100 videos and trends for 2020, providing you with plenty of material for this exercise.
Many of these famous TikTok videos have a few essential characteristics in common:
Vertical aspect ratio:

A vertical aspect ratio is used in almost all TikTok postings. Although the platform allows you to utilize a horizontal or square aspect ratio, you should stay vertical for your content. When a potential consumer clicks on your ad, the user experience will be minimally disrupted.

Trends and memes:

While many successful TikTok videos are unique, many, if not many, are based on a popular song or meme. Last year, there was the "Blinding Lights" dancing competition and other weird things that make sense. Including these trends in your ad content is an excellent approach to engage with people and keep their attention.

Young User Base:

Many of these popular videos feature individuals who look to be in their teens or early twenties. Indeed, TikTok has a disproportionately young user base – around one-third of users are aged 10 to 19, and more than 60% are aged 10 to 29. When creating TikTok marketing material, keep in mind who your target audience is.
It is critical to acquire a feel for the platform before allocating resources and developing a plan for your business around it.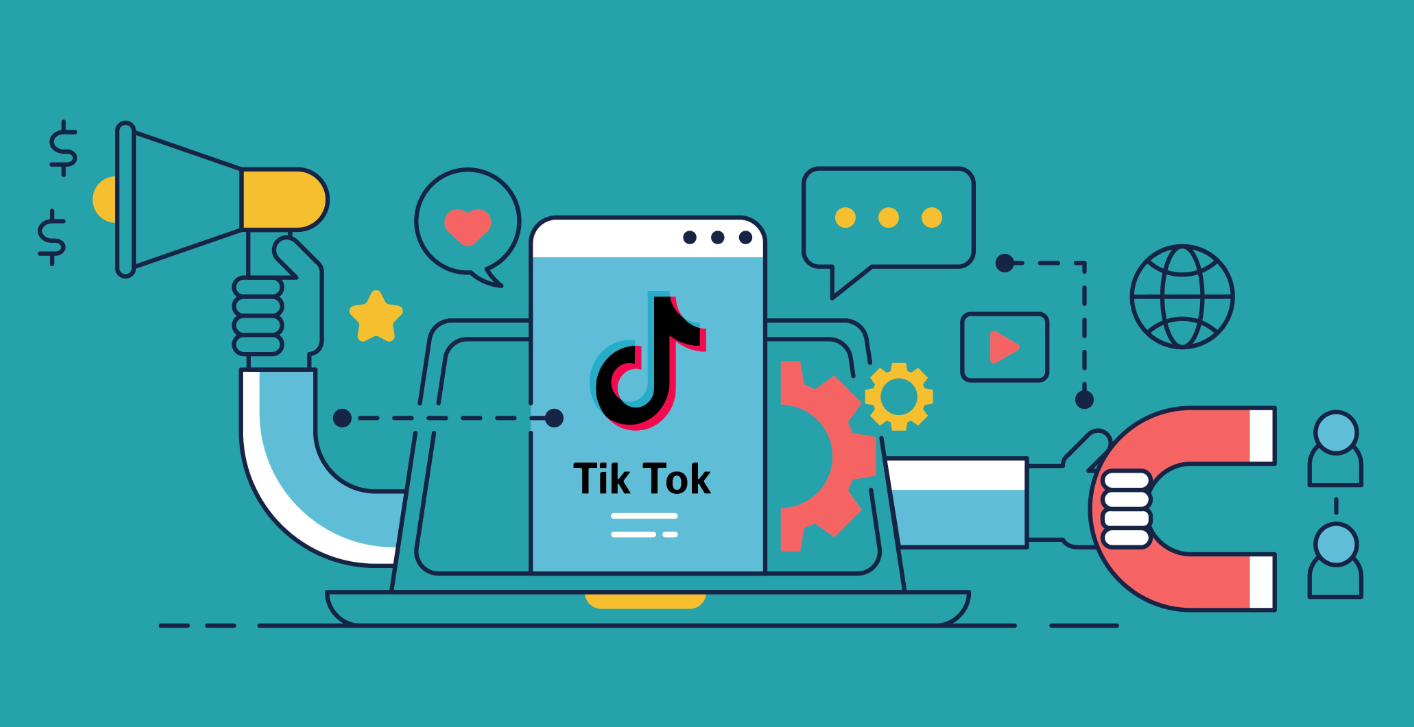 Related Post: Twitter as a Marketing Tool: 5 Effective Marketing Strategies
How to Create a TikTok Marketing Strategy
Now that you understand how TikTok works, let's go through the stages of creating your TikTok marketing strategy.
First and foremost —
Create an account on the TikTok app if you haven't already.

Upgrade to a Pro account when you're ready, so you can show off more of your information on your profile and see stats for your posts.

Go to the TikTok for Business page and click on the "Get Started" button to register for a TikTok Ads Manager account.
And then go into your customer data to see who your regular customers are. Get a better understanding of your target audience by using the data you've already gathered from other marketing channels.
It's a good thing that TikTok lets you target your advertisements based on several factors such as gender and geography. It's possible to target your advertising to prospects depending on the price of the TikTok gadget they're now using to explore.
When it comes time to create the content, there are two sorts of TikTok marketing strategies that are very successful:
Accounts with an extensive organic following on other social media sites, such as Twitter or Instagram, are great marketing resources for brands using influencer marketing techniques. Even if you don't have a large marketing budget, working with TikTok influencers can help you reach a large audience rapidly.

Start a hashtag challenge by asking others to do something and tag their social media post with a specific hashtag. (To improve your "findability" on the app, add relevant hashtags for all of your TikTok content.) Thousands of individuals will create UGC about your business as a result of a well-designed hashtag challenge. Using user-generated content (UGC) has a far more significant impact on your brand than using original material since consumers are viewed as more trustworthy and dependable than a company trying to sell anything.
Traditional advertising may undoubtedly generate interest in your business, but going viral with organic postings is the key to obtaining a significant return on your TikTok marketing investment in terms of both time and money. This is the hashtag challenge's overarching objective, of course. Don't be scared to experiment with content or your strategy by learning what other businesses and your competition are doing on the platform.
Is there another technique that companies are employing? Promoting TikTok videos in the workplace by allowing staff to make their own.
Businesses are adopting the TikTok trend, as seen in the new world.
Everyone in your company may be used to promote your business on TikTok, regardless of their position.
As an illustration:
As a company, Dunkin' has a network of employee influencers.

More than 70,000 people are now following a Wendy's cook's Baconator's instructions on YouTube.

Employees who participated in a #hashtag challenge at GameStop received gift cards as a reward (though it proved controversial).
There's an adage that applies to conventional TikTok campaigns as well: "If you can't measure it, you can't manage it." You'll never know if your marketing plan is successful until you have accurate data showing how well your advertising is doing.
TikTok Pixel comes in handy here. You can evaluate if your marketing initiatives have the desired effect by tracking the activities of visitors who visit your site after clicking on a TikTok ad. Retargeting users who have already interacted with one of your advertisements is also possible with the TikTok Pixel, and this group is far more likely to purchase others.